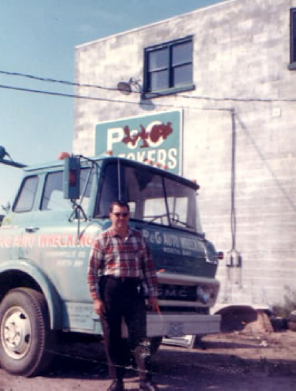 For more than 65 years, P&G Auto Sales Ltd. has been helping area residents find just the right part they need to keep their vehicles on the road.
Located at 534 Gormanville Road off Hwy. 17, P&G Auto is a family-owned business, with Darrell, Jerry Pitman and Mike Vaillancourt (Beaver) at the helm.
Automotive dismantling and recycling is the heart of the business. P&G buys old vehicles from individuals as well as insurance companies. The qualified employees then strip them down for usable parts. The parts are cleaned up and resold to people who need them to keep their own cars running.
Because customers sometimes need parts which are not always in stock, P&G Auto Sales is linked by computer with Internet databases, two satellites and a voice line. This allows the business to send a notice to suppliers across Canada and the United States that a certain part is needed. Once it is located, the part is shipped to P&G.
Our latest computer systems also maintain a complete computerized inventory of the parts in stock.
For friendly service and a knowledgeable staff, visit P&G Auto Sales from 8 a.m. to 5 p.m. Monday to Friday
CODE OF ETHICS
As a condition of membership in the Ontario Automotive Recyclers Association,
I/we agree:
To respect the reputation, profile and status of the Ontario Automotive Recyclers Association, and represent the Association accordingly;
To operate according to the ordinances, statutes and laws of the various jurisdictions;
To promote the conservation of energy and the total utilization of our natural and manufactured resources;
To minimize the reduction of a usable automotive parts to scrap as long as we believe there remains a reasonable potential of saving the energy it represents by negating the need to manufacture a similar replacement part;
To maintain a clean non-polluting environment in and around our place(s) of business;
To participate in the functions and activities of the Association, and where possible lend my/our business and professional expertise.
P and G Auto
Management and Staff